KEEPING YOUR CAT HAPPY WHILE YOU'RE WORKING FROM HOME
Your bonding time just multiplied tenfold.
Here are six tips for keeping your cat coworkers happy while you work, talk, eat, sleep, relax, do chores and live together 24/7.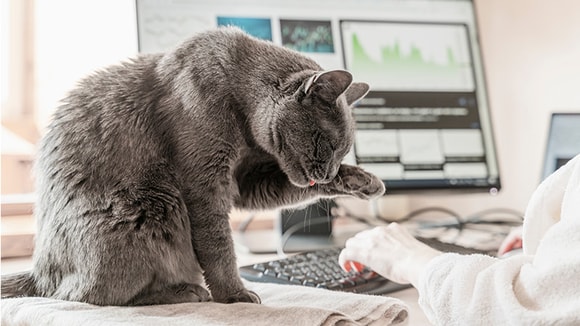 looks like a Proof that you'd do anything for your cat? You're researching this topic.

1. The family that takes breaks together stays together.
Regular breaks for play and nuzzles will prevent your cat from feeling ignored and reduce their stress. And checking in regularly with your new pet boss will keep your stress levels down and foster a positive relationship.
2. Give your cat a corner office.
It's wonderful to be together, but you both need personal space. Set up your cat with their own little area of the house. Having a lair will also keep them away from cat magnets like your keyboard.
3. Volume down, happiness up.
You're desensitized to the cacophony of bings and bongs that come from your computer and phone throughout the day. Your cat isn't. Keep the volume low and pick cat-friendly tones that won't startle your new office mate.
4. Bring a toy to work.
Prevent sneak attacks during Zoom calls by stockpiling a stash of toys you know your cat loves to play with on their own. If they have a play-first attitude, check out these five ways to play.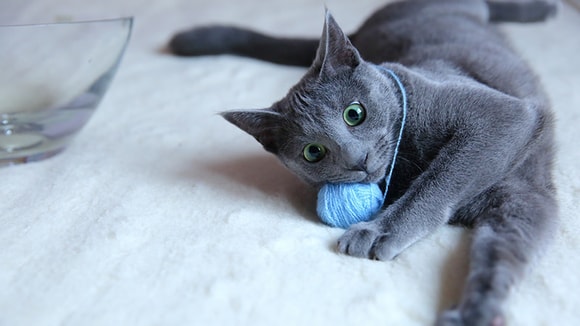 5. Keep snacks handy.
While you're wearing down the floorboards between your desk and the kitchen, you can indulge your cat boss's snacking side, too, with the irresistible taste of SHEBA® Meaty Tender Sticks. No. 1 employee? We think yes.
6. Celebrate mealtimes.
At the end of a hard day, you have dinner to look forward to. Who needs fancy restaurants and chic bars when you can come together and bond with your cat as they eat their favorite SHEBA® PERFECT PORTIONS™ meal?